Services
Military Commemorations and Uniformed Services Functions
I have more than 40 years continuous service with the Australian Army, mainly in the Royal Australian Army Medical Corps, in ranks ranging from Private to Colonel. Indeed for a short time I was a professional piper.
As such I have a sound understanding of the etiquettes and ceremony associated with military and uniformed-services events, which are my speciality. In particular, I understand the protocols for marching colours, banners and guidons, as well the ceremony attached to commemorative events.
Likewise I am completely familiar with the customs of the regimental dining-in-night, both in the Officers and Sergeants messes or equivalent. Of note I play at the Australian War Memorial's Last Post Closing Ceremony on a roster several times a month.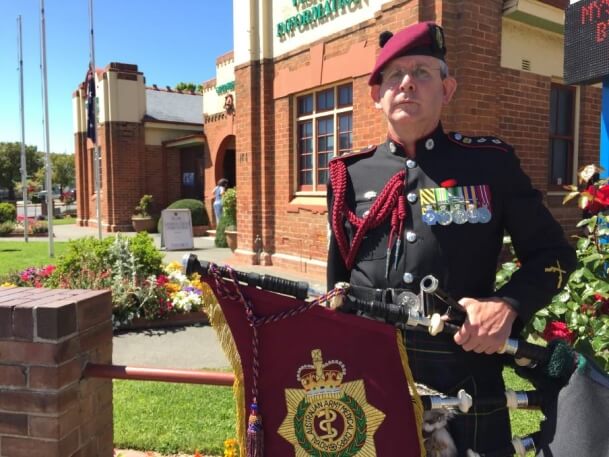 Funerals and Memorials
Bagpipes are a particularly good instrument for lamentation, and can provide a real sense of dignity and solemnity. I have played at many funerals, including military funerals with full honours.
Options include playing during the service, as the hearse arrives and/or leaves, at the graveside or commitment, or at the wake.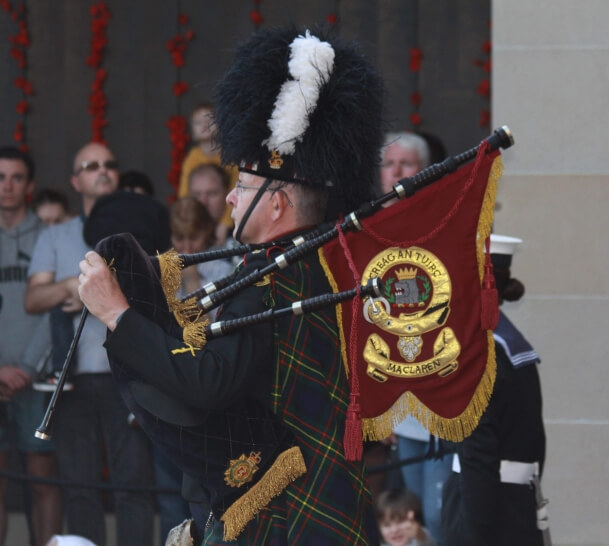 Engagements and Weddings
Pipers have helped families to celebrate engagements and weddings for centuries. Few instruments are as evocative as bagpipes to herald the arrival of the bride, or signal the completion of the wedding ceremony. Similarly it is not uncommon to play at the reception.
I can play most of the common tunes associated with a highland wedding, including some of the hymns. I am also prepared to learn a tune or tunes given sufficient notice, but please be aware the scale of the highland bagpipe is limited and many popular tunes do not fit well. I would recommend sticking with the tradition tunes.
Finally, I am also available to pose for the wedding photos should that be a requirement.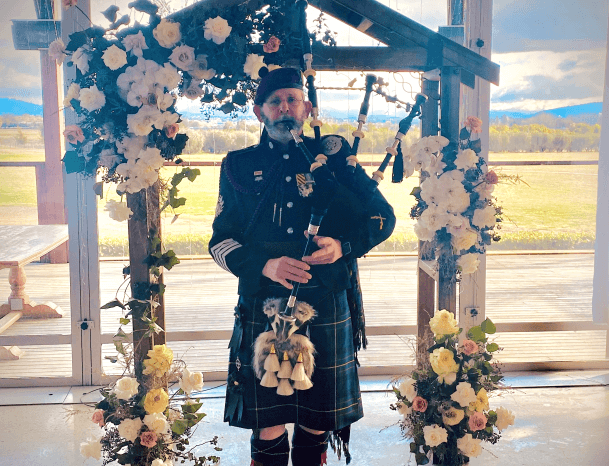 Private and Corporate Parties
Pipers are often used at private and corporate functions to add that special something and make the event truly memorable. Exactly what you want me to do is really up to you!
I am familiar with the customs and traditions associated with Burns Dinners and St Andrews Day, having played at many of them.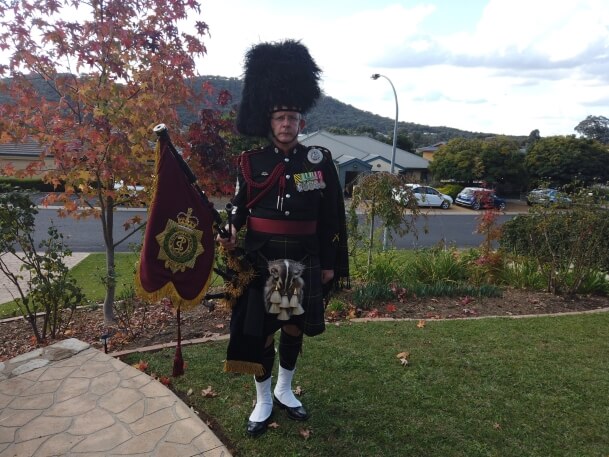 Backing for Music Group Recordings
I have some experience of providing backing support, both for live concerts and for recordings. For example I did the backing for a jazz group called Zeeks Beek, and occasionally play for John Farnham.
I also own and play a set of electronic bagpipes which are capabable of achieving many voices, and are able to be tuned to the bands instruments with relative ease. They are also able to produce various electronic effects.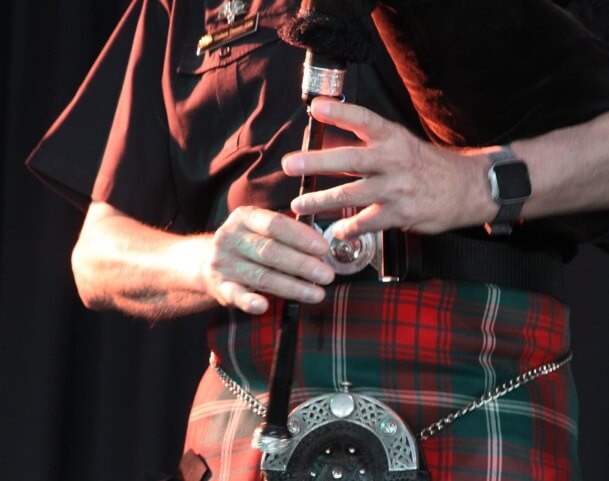 Availability and Fees
I am available to play anywhere in the Canberra, Yass, Goulbourn and Cooma basin, or further afield if required, although this attracts additional fees. If for some reason I cannot play at your function or event I can recommend other highly experienced and competent pipers.
Meetings and rehearsals are generally not required. The majority of arrangements can be successfully made by way of email or telephone.
My fees are entirely dependent on the preparation, waiting, and performance times, and the travel involved, plus any other additional expenses such as accommodation if required. My fees however are very competitive. For example, in the Canberra and Queanbeyan city areas my normal fee would be:
to 30 minutes $150
30 minutes to one hour $300
one to two hours $400
These fees are negotiable. Please contact me for a quote.